When I'm Gone
When I come to the end of my journey
And I travel my last weary mile,
Just forget if you can, that I ever frowned
And remember only the smile.
Forget unkind words I have spoken;
Remember some good I have done.
Forget that I ever had heartache
And remember I've had loads of fun.
Forget that I've stumbled and blundered
And sometimes fell by the way.
Remember I have fought some hard battles
And won, ere the close of the day.
Then forget to grieve for my going,
I would not have you sad for a day,
But in summer just gather some flowers
And remember the place where I lay,
And come in the shade of evening
When the sun paints the sky in the west
Stand for a few moments beside me
And remember only my best.
Mrs. Lyman Hancock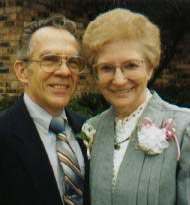 Dad and Mom.
Obituary
CHERRY VALLEY - Beverly Joan Johnson, 64 of Cherry Valley, IL, died at 4:55 a.m. Sunday, Sept. 14, 1997 in SwedishAmerican Hospital, after a battle with lymphoma. Born March 24, 1933, in Dunn County, WI, daughter of Marvin and Mary Dunlap Burton. Married Donald Wayne Johnson on April 16, 1954. Member of Rockford First Church of the Nazarene. She was a foster parent from 1972 to 1985 in LaSalle County and from 1985 to 1993 in Winnebago County. She also was active in bowling. Survivors include husband, Donald; daughters, Donna J. Taylor of Rensselaer, IN, and Beverly D. (Lysa) Rigo of Rockford, IL; sons, Robert W. of Utica, IL, Richard D. of Austin, TX, Burton D. of West Des Moines, IA, and Timothy D. of Rockford, IL; 15 grandchildren; sister, Dorothy A. Aspen of Harlingen, TX; brothers, Kenneth O. Burton of Desert Hot Springs, CA, Floyd C. Burton of Holmen, WI, Marvin G. Burton of Downing, WI, and Charles H. Burton of Milwaukee, WI. Predeceased by parents; daughter, Karen Angela; sister, Mary J. Johnson; and brothers, Thomas D. Burton and Robert J. Burton.

Services at 11a.m. Wednesday, Sept. 17, in Rockford First Church of the Nazarene, 4503 Charles St., with her brother, the Rev. Ken Burton, and the Rev. Don Tyler officiating. Burial in Arlington Memorial Park Cemetary. Visitation 6 to 8 p.m. Tuesday in Fitzgerald & Associates Funeral Home, Mulford Chapel, 1860 S. Mulford Road, and from 10 a.m. to service time Wednesday in the church. Memorial may be made to the family for Rockford First Church of the Nazarene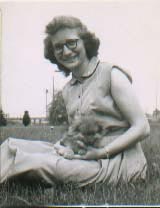 Mom with Puppy.
One liner goes here.